Energy revolution is the need of the hour and Sathyabama University has sensed that spreading awareness would be a key tool in achieving it. As a pioneer in engineering education, Sathyabama University proudly convened SEEK 2013 which was indeed an initiative to spread the necessity of adapting an emission free technology to meet the rising energy demand.
SEEK 2013, an exceptional event was organized by Sathyabama University in association with Solar Energy Society of India and Solar Energy Corporation of India for students with engineering and science background to signify the National Science Day celebrated on the 28th of February every year. This national convention provided a platform for exhibit of ideas in the form of models or posters for the student community. Students from around 40 Colleges/Universities and various disciplines competed in the poster and model display competitions. Students from Anna University Chennai, Easwari Engineering College Chennai and Sathyabama University Chennai backed the first, second and third prize of Rs.10,000/ , Rs.5000/- and Rs.3000/- by cash respectively for the Model Display Competition. First prize of Rs.5000/- was given to the students of Bannari Amman Institute of Technolgy, Coimbatore for their poster presentation. The second prize of Rs.2000/- each was shared by the participating teams of Sathyabama University and SRR College .Students from Vignan University, Guntoor, backed the third prize for their poster display.
Prof. Bhaskar Ramamurthi , Director, Indian Institute of Technology Madras, Chennai inaugurated the convention and delivered the Inaugural Address and Dr. S. Iniyan, Director, Institute for Energy Studies, Anna University Chennai, delivered the Keynote address. Dr K S Dhathathreyan, Associate Director and Head, Centre for Fuel Cell technology, ARCI, IIT-M research Park Chennai delivered the Special Address. Dr.K.Srinivas Reddy, Professor, Department of Mechanical Engineering, IIT Madras, Chennai; Mr.Iyyappan, Senior Technical Officer, Department of Chemical Engineering, Central Leather Research Institute (CLRI); Dr.G.Giridhar, Scientist and Unit Chief , Solar Radiation Resource Assessment, Centre for Wind Energy Technology (C-WET),;Mr.Bhoovarahan Tirumalai, CEO, Aspiration Energy; Dr.M.Srinivasan, Managing Director, AR Solar Energy (P) Ltd and Mr.Vineeth Vijayaraghavan, Founder & Editor, Panchabuta were the other eminent persons who delivered inspirational and awareness creating addresses during SEEK-2013.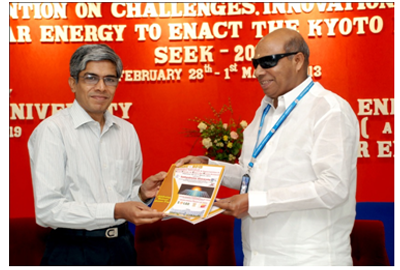 Prof. Bhaskar Ramamurthi receives the Souvenir released during the inauguration of SEEK -2013 at Sathyabama University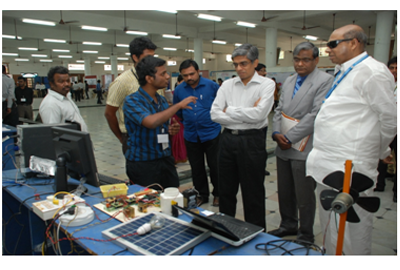 Students from Easwari Engineering College explaing their model to our honorable Chancellor and Guests of Honor Prof. Bhaskar Ramamurthi and Dr.Inniyan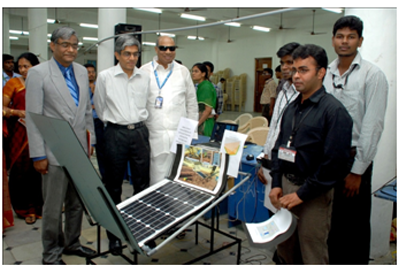 Students of Anna University, Chennai displaying their model to the Chancellor Dr.Col.Jeppiaar, Prof. Bhaskar Ramamurthi and Dr.Inniyan
Students of Anna University, Chennai receiving first prize (Rs.10,000/-) from Mr.Vineeth Vijayaraghavan, Founder & Editor, Panchabutha during the Valedictory function
---